JFC supply a range of portable emergency water tanks. They are widely used in emergency situations to provide water to the public when adverse weather conditions including flooding, severe freezing, drought or general maintenance and repair impacts on  mains and water supply.
These tanks are typically placed in a convenient location to supply emergency water to domestic residences in the event of mains water supply failure.  JFC supply customised tanks for use by local authorities and national water companies with standard models available in 1100 and 1800 litre capacities. Manufactured from UV protected rotationally moulded polyethylene they are supplied with a fully galvanised frame.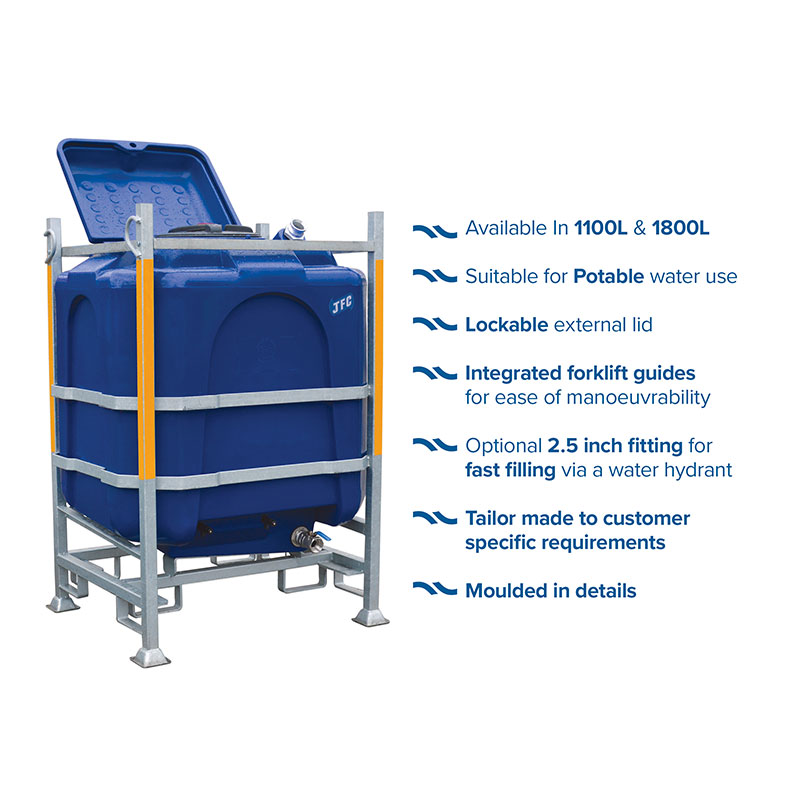 Accreditation:
Approved under Regulation 31 of the Water Supply Regulations 2000 which implements
Article 10 of the council of European Union Drinking Water (DWD) for use in public water supplies.
Sizes:
| Product Code | Description | Capacity (L) | Dimensions (mm) |
| --- | --- | --- | --- |
| ULCG350 | 1100L Aquacube | 1100 | 1000 x 1200 x 1740 |
| ULCG450 | 1800L Aquacube | 1800 | 1420 x 2292 x 1105 |
Features:
WRAS approved polyethylene storage tank
2 x Push/Stop pour taps for dispensing water
Internal 455mm vented, screw type hinged lid
Outer lockable manway cover with concealed hinge points
Fully galvanised metal framework to BS729 standards
4 Frame lifting/tie down points for secure transit
Integrated 4 way Forklift points for transportation
Reflective markings on frame for better night visibility
Stackable when not in use

Optional Extras:
2.5" Instantaneous Filling Port C/w Non-Return Valve
Dog guard flaps to protect dispensing taps
Mould-in company details, logo etc.
Additional information signage on request
Sequential numbering plate system