JFC has further expanded its range of CorriPipe™ products with the introduction of 750mm, 900mm and 1050mm sizes.
These sizes are manufactured using the most advanced extrusion and polymer processing technology available. This technology is coupled with cutting edge materials to provide the ultimate large diameter surface and stormwater drainage pipe.
Large diameter CorriPipe™ is manufactured from recycled HDPE utilising a twin extrusion process. The inner and outer layers are simultaneously extruded, one inside the other and heat welded together in one continuous process. The outer solid wall is corrugated providing excellent structural strength, reducing the possibility of on-site damage. The inner wall has a smooth seamless finish to optimise hydraulic flow.
Our CorriPipe™ twinwall drainage pipe has been used across numerous large scale projects throughout Ireland and the United Kingdom. Offering expert advice and comprehensive range of fittings and accessories, JFC is the brand of choice for leading contractors and project managers.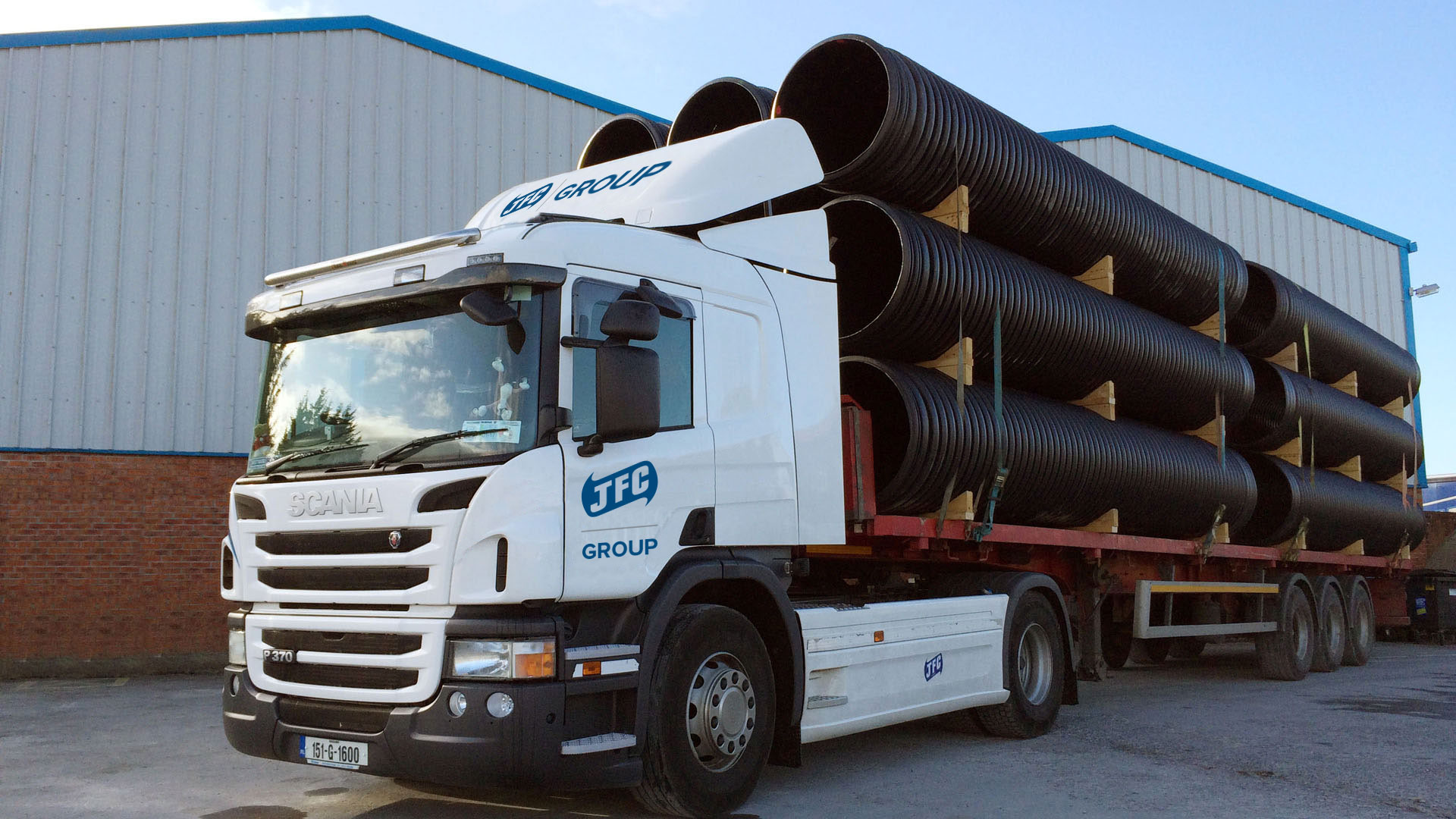 Sizes:
| Product Code | Description | NOM. ID (mm) | NOM. OD (mm) | Standard Length |
| --- | --- | --- | --- | --- |
| 750TP | 750mm Fully Perforated CorriPipe™ | 750 | 848 | 6m |
| 750TPU | 750mm Unperforated CorriPipe™ | 750 | 848 | 6m |
| 750TPH | 750mm Half Perforated CorriPipe™ | 750 | 848 | 6m |
| 900TP | 900mm Fully Perforated CorriPipe™ | 900 | 1024 | 6m |
| 900TPU | 900mm Unperforated CorriPipe™ | 900 | 1024 | 6m |
| 900TPH | 900mm Half Perforated CorriPipe™ | 900 | 1024 | 6m |
| 1050TP | 1050mm Fully Perforated CorriPipe™ | 1050 | 1200 | 6m |
| 1050TPU | 1050mm Unperforated CorriPipe™ | 1050 | 1200 | 6m |
| 1050TPH | 1050mm Half Perforated CorriPipe™ | 1050 | 1200 | 6m |
Features & Benefits:
Superior structural strength with SN2, SN4 and SN6 options available.
Unique Integrated socketing system (see below for further information – traditional independent sockets also available).
Smooth internal plastic bore with reduced hydraulic resistance. Manning's coefficient of 0.012 allows for greater flow capacity and also a greater factor of safety. This also reduces sediment or debris build-up when compared to concrete or steel.
Lightweight when compared to traditional materials such as concrete or steel. E.g. (Up to 90% lighter than concrete)
Fully leak tested to HAPAS requirements when used with rubber gaskets.
Standard 6m lengths make it quick and easy to install, eliminating wastage and reduces labour and plant costs. E.g. (Up to 6 times faster installation compared to concrete).
Parallel corrugations allow pipe to be easily cut square on site if required. (Spiral wound pipe makes it difficult to create a square cut on site if required)
JFC CorriPipe™ XL is available unperforated, fully perforated or half perforated.
Manufactured from exceptionally durable HDPE material with excellent corrosion resistance and long term performance.
Resistant to most naturally occurring chemicals and is therefore suitable for use on the majority of soil conditions.
Can typically be installed with cover depths from 0.6 to 10m*
Contact JFC for guidance on minimum and maximum burial depths
Unique Integrated Socketing System:
Integrated Bell and Spigot Joint
 Traditional Independent Coupling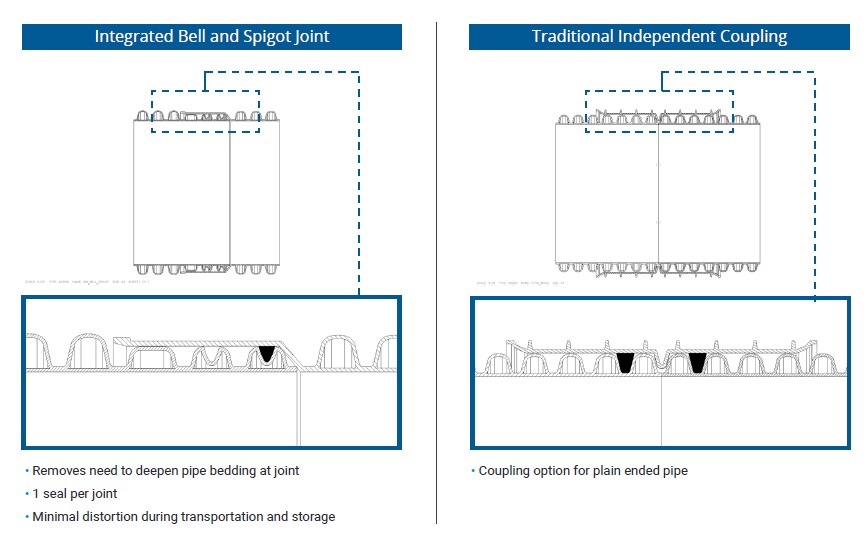 Applications:
Ideal for gravity surface water and stormwater drainage applications this pipe id used for Highway filter and carrier drains, Rail Track Drainage, Golf course drainage, Cathcpits and Land reclamation projects. Available in black as standard.
Quality Assurance:
Our products are also quality approved to the internationally recognised ISO 9001 – 2008 standard.