JFC design a range of Catchpits/ Silt traps to separate silt and other particles. This improves the quality of water before it is reintroduced back into the drainage system.
As each individual SuDS system is different, they are individually fabricated to take into account water flow rates and ground conditions that differ from site to site. JFC catchpits have been widely and successfully used for applications including railway and highway drainage systems.

Material
High Density Polyethylene
Application
Surface & Stormwater
Drainage
Base Plate
Fully Welded
Connections
Spigot as standard

(Couplers on request)

Catchpit Diameters (Ø)
As per table below
Inlet & Outlet Sizes
As per table below
Sump Depths (s)
300mm standard*
Height (H)
As requested*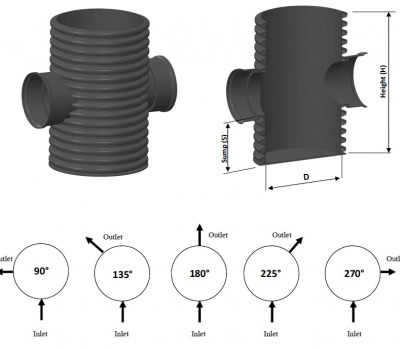 Bespoke fabrications are made to order as per customer project requirements. They can be installed in depths up to 6 metres and with any number of inlet and outlet quantities, sizes or configurations. Contact JFC today to discuss your project further.